50% OFF
🔥Limited Time Offer🔥
Product Features:
Upgraded version of NT-01
Designed for outdoor use
1-5L/min oxygen flow
High oxygen concentration 93%±3%
Only 4.85lb
Dual oxygen delivery mode
Replaceable battery:8-cell or 16-cell available
Large and user-friendly LCD screen
Product Description:
Portable Design for Outdoor Use
The VARON Portable Oxygen Concentrator NT02
weighs only 4.85lb. It comes with a
versatile bag
that can be handheld, carried cross-body, or over one or both shoulders, adding more convenience to provide a reliable source of oxygen on the go. Great for the outdoors, plateau use, car use, and more.
The portable oxygen concentrator is powered by a 6400mAh/92Wh long-lasting
battery
that can run for 3.5 hrs. Effortless removal in just 3 steps: 1) lay the product flat 2) pull the trigger, and 3) slide the battery in the direction of the arrow.
Dual Oxygen Delivery Modes
This device has 2 oxygen delivery modes: Pulse Mode delivers oxygen by sensing the user's breathing rhythm, while Continuous Flow supplies oxygen at a fixed frequency. The 2 modes switch automatically according to users' breathing patterns, suitable for a broad range of people.
Stable Oxygen Concentration
This oxygen machine outputs oxygen at a high and constant concentration of 93±3%. The flow rate is easily adjustable between 1-5L/min, allowing you to regulate the amount of oxygen you receive based on your needs.
Our portable oxygen concentrator features a high-quality CECA molecular sieve and undergoes a rigorous self-filtration process to purify oxygen before being finally delivered to users, ensuring every breath you take is pure and clean. 2 filter pads are included for easy replacement.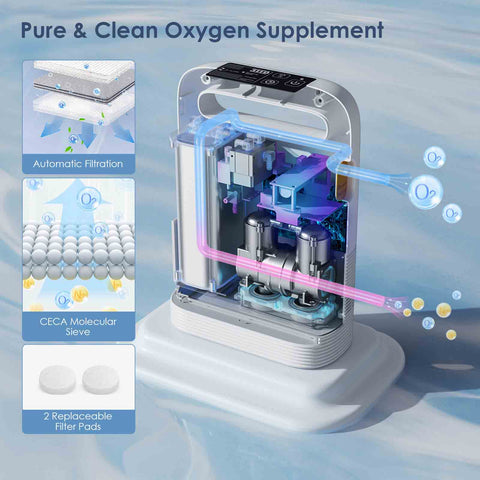 Machine Comparison:
 

VARON NT-02
VARON NT-01
 G3
Price
$999
$549
$2459
Operate Mode

Pulse Mode+Auto Mode(3s)


Pulse Mode

Pulse Mode

Weight

4.85 Pounds

7.05 Pounds

4.90 Pounds

Oxygen Concentration

93%±3%

93%±3%

90% - 3% /+ 6%

Adjustable Flow

1-5L

1-5L

1-5L

Low Noise

≤58db

≤58db

≤42db

 Charging Time

4-8 H

4-8 H

4-5 H

Battery Life

3.5H(8-Cell)

6H(16-Cell)

3 H

4.7 H

Replaceable Battery

√
×

√

Replaceable Battery Price

$169(8-Cell)

$259(16-Cell)

×

$407(8-Cell)

$618(16-Cell)
Power Supply:
✅AC Power Supply-Home, work, or hotel room use
✅DC Power Supply- Car use
✅External Battery-Outdoor use
VARON portable oxygen concentrator

 
NT-02 comes with the
above 3 accessories
, you do not need to buy them separately.
Product Specifications:
Oxygen Flow:1-5L/min adjustable
Oxygen Mode: pulse & 3 seconds steady oxygen supply
Oxygen Concentration:93% ± 3%
Dimensions(LWH):7.2*3.6*10.1inches
Net Weight:4.85lb
Noise:≤58dB(A)
Battery Last: up to 3.5 hours
Battery Capacity:92Wh/6.4Ah
Power Supply:DC 12~16.8V; AC100~240V; 50/60Hz
Input Power: 68W
Electrical Classification: Class II
In The Package:
VARON Oxygen Concentrator NT-02*1
Carrying Bag*1
Rechargeable 8-Cell Battery*1
AC Power Cord*1
AC Adapter*1
User Manual*1
Filter Pad*2
Disposable Oxygen Inhaler*2